Lutty's Chevy Warehouse -
License Plates, Gifts & Apparel

Tag your car with a year-specific Chevy license plate or frame. Dangle some Fuzzy Dice from your rearview mirror. Show off your favorite spot to buy restoration parts with $10 Luttys Chevy Warehouse Logo T-shirts! Also, find Chevy Bowtie Playing Cards, hoodies, gifts, apparel, and much more!
Select a Sub-Category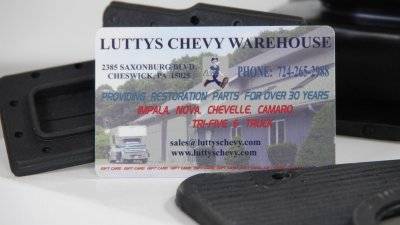 Need a gift idea for your favorite gear head? Can't go wrong with A gift certificate and a $10 T-Shirt!